Description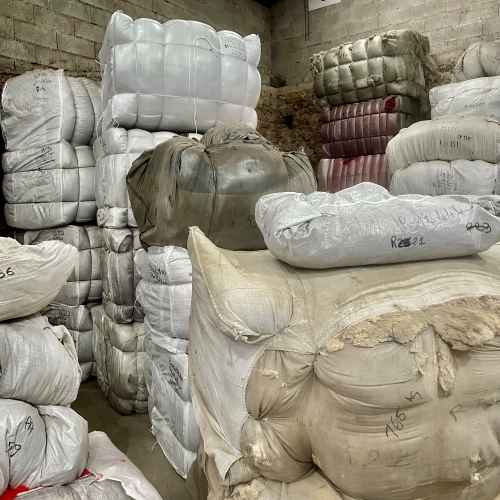 Our wool jacket, like our entire collection, is made with 100% recycled French wool. 100,000 tons of clothes are thrown away every year in France. It was logical for us to make it our raw material. To offer you high quality products we work with experienced and local craftsmen.
A circular model of the textile industry is possible. We are committed from creation to offer you responsible fashion with a style that mixes the elegance of timeless pièces and urban life. LATER… is a responsible alternative to today's fashion.
Woven in France, made in Portugal
To create the 100% recycled oversized jacket, we knocked on the doors of craftsmen with exceptional know-how in France and Portugal : spinners, weavers, tailors, button makers… It is the addition of their expertise that allows us to obtain the quality of the LATER garments…
These collaborations are essential for us. It is also these encounters that drive us in the LATER… project.
This jacket is loose and relatively short to allow for layering. Choose this jacket in your usual size.
Marylou is 178 cm tall and wears M.
Pape is 184 cm tall and wears M.
A wool sheet of unique quality
Our wool sheet adopts the characteristics of a traditional wool flannel. From its soft feel to its thickness that makes the piece warm and comfortable, it meets many of our requirements, the first being quality. You can wear the jacket for a long time, the wool sheet is not ready to run out of steam.
The weaving is done in Castres, at Pierre Calvet. For the oversized jacket, we chose a mix of recycled wool (70%) and recycled polyamide (25%). The rest is obtained from other fibers, already present in the fabrics before they are recycled. The collar yokes are made of recycled cotton (50%) and recycled polyester (50%) gabardine.
Finally, we used fabric scraps from the SAINT JAMES workshops to make the reinforcement inside the back, with their emblematic stripes.
A meeting of shared values
Born from the meeting of women and men who share the same values, on both sides of the Coësnon, this recycled capsule is a river towards a more virtuous future, a modern way of dealing with the existing.