Description
This Bermuda shorts made in France and 100% recycled, is inspired by the military pants of the 50s. We sought to design a room that was spacious and functional with a touch of elegance.
The result is a high waist Bermuda with a wide belt with double loops, two clips to give ease, baggy fit and exaggerated flapped cargo pockets. It is finished with a wide lapel at the bottom.
Worn low, we imagine these shorts as well with a casual outfit as with a blazer and a small shirt for a wedding!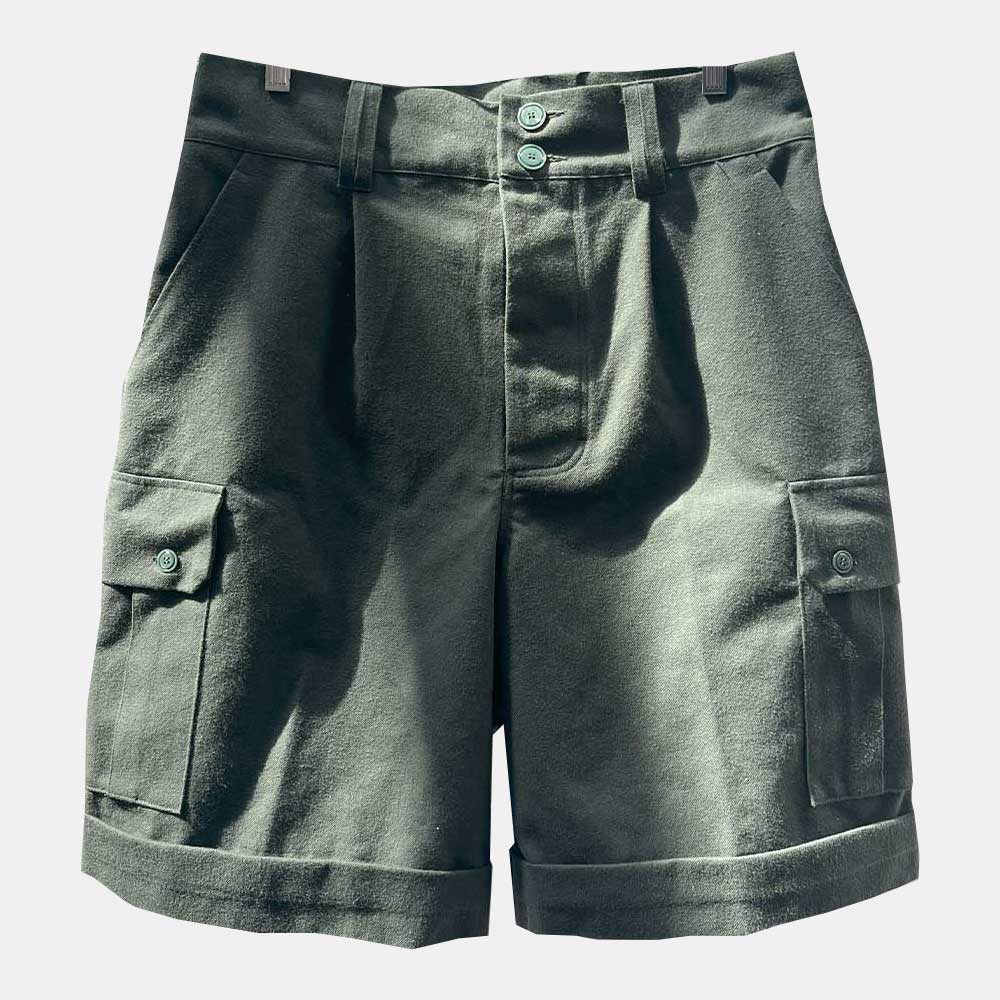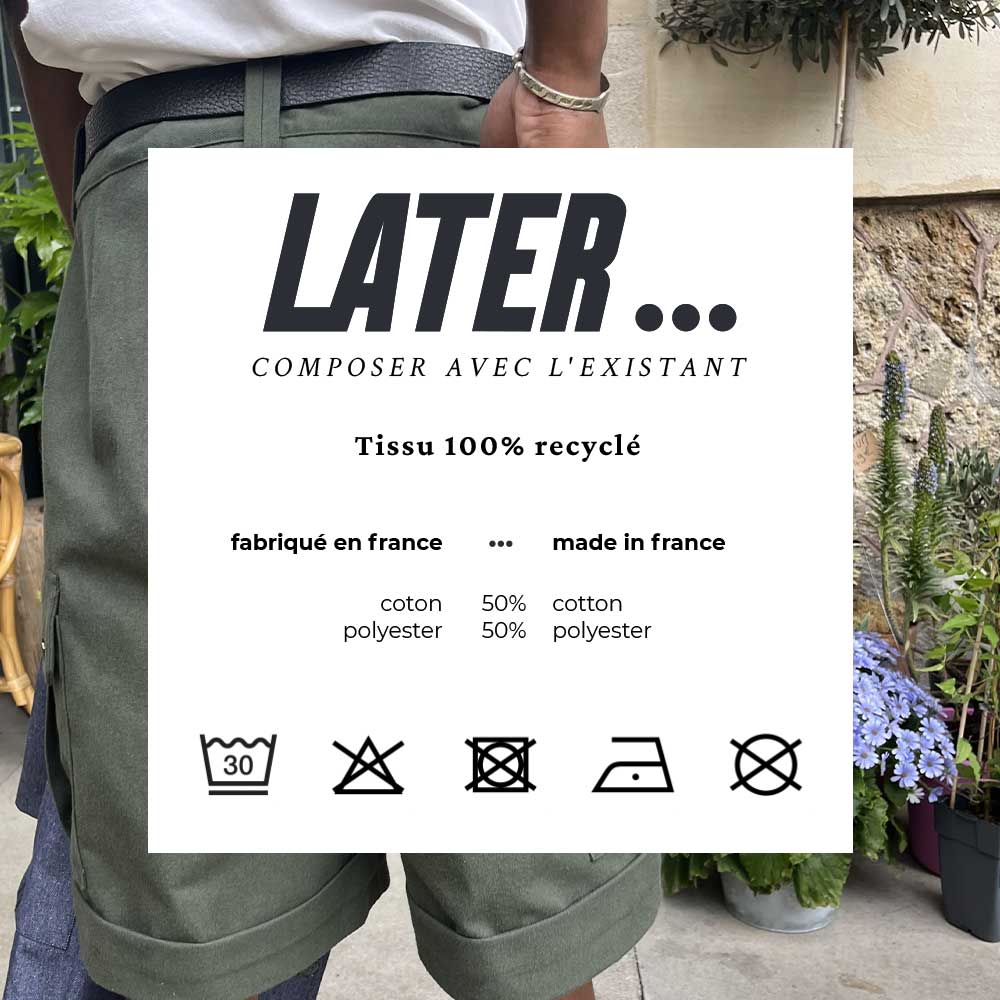 Our Made in France Bermuda shorts are 100% recycled
Why produce new materials when we know that 100,000 tons of clothes are thrown away every year? At LATER… we work with what exists.
We think of clothing differently. It starts with the cotton we use. It is obtained only from old textiles. Once defibered, our spinner uses the resulting fluff to make new spools of yarn. A way to give life to a stock of clothes destined to be destroyed.
This unique process allows the reuse of the original garment colors. No dyes are added!
Pre-ordering means producing only what you have purchased and avoiding any waste. This allows us to reduce costs while maintaining our high standards in terms of quality and the environment without impacting working conditions.
We believe that full transparency is a necessary condition for responsible consumption. The cost of materials, clothing but also logistics and wages, we explain the price of these shorts in detail.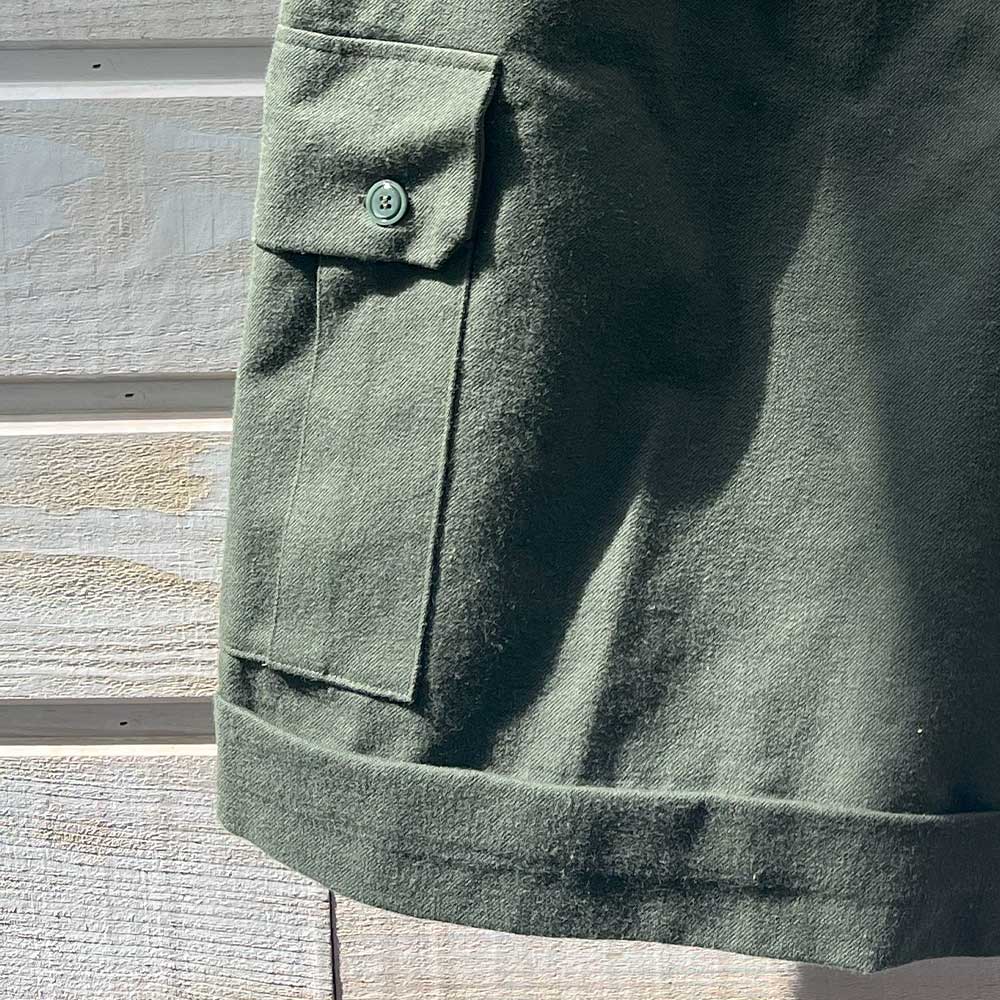 A recycled cotton twill woven in France
Our cotton twill adopts the traditional characteristics. It meets several of our requirements, the first being quality. You can wear your cotton Bermuda shorts for a long time, this sturdy twill won't run out of steam anytime soon.
The weaving is done in Castres, at Pierre Calvet. We chose a mixture of recycled cotton (50%) and recycled polyester (50%).
Bermuda shorts made in France
For this piece, with its many details and demanding production, we have chosen to work with a French workshop located a few kilometers from our offices in Brittany. This proximity limits the number of kilometers traveled as much as possible, but above all it allows us to maintain local know-how, which is essential to a more virtuous economy.
Choose these shorts in your usual pants size. Its cut is wide and long.
In case of doubt, here is a table of correspondence between the French, English and American sizes to help you choose your cargo shorts. You can also contact us by email or on our social networks for a personalized advise.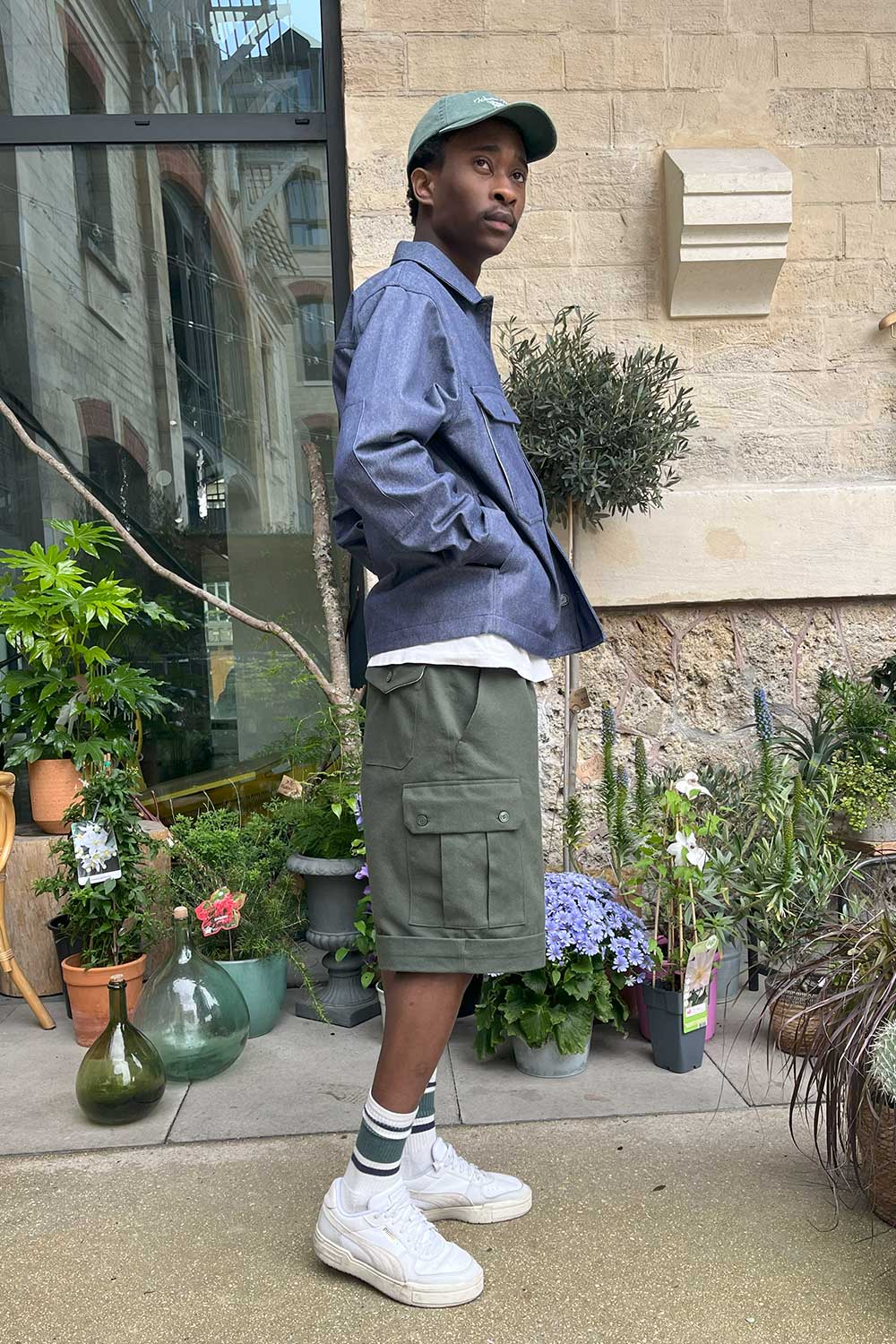 Pape is 184 cm tall, weighs 65 kg and is wearing a size M in this photo.
A desire to change things
When we launched LATER…, we started from an observation: we don't really know what we consume. Where do the materials come from? Where are they processed? In what conditions ? Where does our money go?
Avec LATER… nous voulons apporter une transparence totale. We want to allow the customer to understand what he is buying but, above all, to understand our approach, our choices and our way of producing.
LATER… , c'est un projet de vie. It is the desire to give meaning to clothes, but also to the world of fashion. Getting as close as possible to our values, to what motivates us every day: respecting the environment, respecting people. For this, our pieces are entirely made from 100% recycled fabrics. We also rely on local know-how to offer quality, durable and timeless clothing.